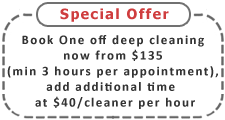 Deep Cleaning Taylors Hill
When you need to completely renovate your property from the absolute depths of poor condition, use our service for deep cleaning Taylors Hill - it's the professional way to restore and condition your home or business environment to a state of perfect hygiene and cleanliness. We use our keen eye for detail to work our way down from the biggest and most visible problems to the tiniest details that other services often miss. Your home will once more be a place where your family can run around in safety, and your business premises will be the talk of all your customers.
We've been one of the most popular and reliable services supplying deep cleaners Taylors Hill for the past decade and more. In that time we've seen everything that the job can throw at us, and equipped ourselves to such a high extent that we can deal with any situation! Our staff are specially trained in the latest dirt-fighting techniques, and they use only the most advanced equipment to guarantee the best possible results.
Why Use Our Deep Cleaning Services Taylors Hill?
Put simply, our deep cleaning Taylors Hill service is one of the most reliable and affordable ways to completely renovate your house, apartment or business premises. We've got a solid history of customer satisfaction, and the kind of prices that fit easily within any budget. And there's also a range of brilliant bonuses you'll be able to take advantage of when you start using our deep cleaners. These include:
Special deals on multiple service bookings:

add an oven cleaning or carpet cleaning to your deep cleaning services, and see how much our prices will fall by!

Weekend and evening time slots:

if your business has set busy hours, or you want to fit your home cleaning around your busy schedule, you can! Simply let us know when you need us, that's when we'll come! All of our appointment times are charged at the same flat rate.

Full insurance and heavily vetted staff:

you'll have complete peace of mind because we're fully covered in the incredibly unlikely event of accidental damages, and all of our staff are rigorously police-checked!
Schedule Deep cleaning Taylors Hill With Us Now
Simply dial 03 8672 3963 now and you'll be put straight through to a member of our cheerful and knowledgeable customer support staff. They know everything about our services, so you'll be able to ask any questions that you feel you need to, make your booking, or get a free, personalised quote on deep cleaning Taylors Hill at any time.
You can also reach us online by starting a conversation with one of our live advisers through our chat support feature. You can also request a quote on the services of our deep cleaners Taylors Hill through our online appointment form - it's a quick and simple way to input your information and get a rapid response.
Before you make a booking you must agree with our Cleaning Services Terms and conditions.
Hire Us for Efficient Warehouse Removals in Taylors Hill and 3037